NETLINK - the flexible data platform for corporate steering
Data volumes in corporates are increasing continuously. For the success of a company the quality of data and the ability to use the contained information is essential. Our flexible data platform evaluates different perspectives of the business and provides steering impulses like key indicators or reports to the management. The consolidated view on corporate data enables the company to exploit revenue potentials, to allocate resources in a reasonable way and to master the risks.
Consistent data preparation for efficient individual use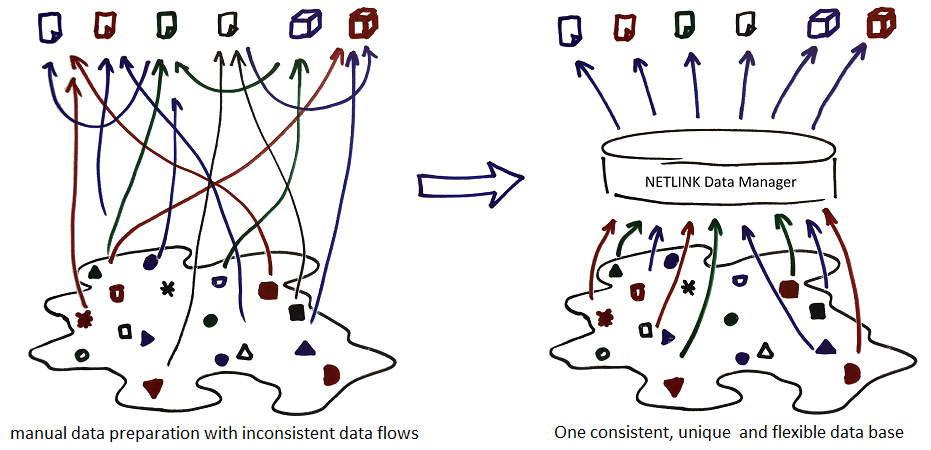 A consistent steering system requires the transformation of data into an integrated overall view, instead of looking at isolated sources separately. The integrated view assures a consistent and unique data basis for analyses and reports. If data is not available or doesn't meet quality requirements, it needs to be gathered or enriched first. Sometimes it is not possible to implement new data fields or new business logics in existing IT systems in time. New steering system is built with Excel spreadsheets instead. Excel is a very versatile tool for data preparation and for reports, but it can lead to problems and risks when using it also for data storage.
Problems and risks of manual data solutions
Manual data preparation is time consuming and error-prone

Steering impulses are not available in time

Missing alignment leads to steering islands with inconsistent data

Complex administration of report versions and access permissions due to data storage in files

The more sophisticated the calculation, the lower the flexibility and agility of reporting